Kundalini Yoga (Yogi Bhajan)
comes to the West
by Shakti Parwha Kaur Khalsa
This is an abbreviated version of how Kundalini Yoga got started here in the West. The details of all the colorful people and events that surrounded the exciting beginnings would fill a book, which must surely be written someday! Meanwhile, here are some basic facts: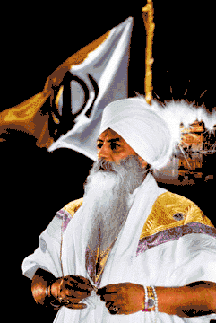 YOGI BHAJAN
Yogi Bhajan mastered Kundalini Yoga in India when he was 16 1/2 years old. In addition to his yogic practices (he's also a master of Hatha Yoga), he finished college, served in the Indian military, married, fathered three children, and was working as a Customs officer at Palim International Airport when he received an invitation to go to Canada and teach Yoga at the University of Toronto.
One of the reasons he accepted the offer was that he had seen too many Americans and Europeans seekers arriving in India, being exploited - spending a lot of money, and leaving without having learned very much, if anything. He vowed to teach honestly, and share the wisdom and the technology that he had gained. He was determined to empower people through Kundalini Yoga and show them they didn't have to become anybody's disciple to progress on the spiritual path.
He not only lost his luggage en route to Canada, but when he landed in Toronto, he discovered that the professor from the University who had hired him had just died. So he had no job, only $35, and the clothes on his back. This was September of 1968.
In December, he received another invitation, this time a personal one from a man he had known in India, to spend a weekend visiting in Los Angeles.
He never went back. Although "the Yogi," as we called him then, had only intended to stay in LA for one weekend, when he met the young people who belonged to the generation of the '60's, those souls whose destiny it was, at this time of the dawning of the Aquarian Age, to usher in the new era. he knew he must stay here and teach them.
It was on this weekend of his "visit" that I met him at the East West Cultural Center in Los Angeles, Sunday, December 22, 1968,
He gave his first public lecture in the United States of America on Sunday, January 5, 1969, at the East West Cultural Center, where he spoke glowingly of his vision. He explained that it is everyone's birthright to be healthy, happy, and holy, and the practice of Kundalini Yoga was way to claim that birthright.
Although he began teaching classes at the EWCC, he wanted to do more. He knew about the YMCA's from India, so we phoned a number of YMCA's in the area, and he was hired by the Alhambra YMCA to teach once a week. I used to drive him to those classes on Thursday evenings. The classes cost $1.50. The YMCA kept 75 cents and he got 75 cents per student. The first night, only one student showed up! But word spread, and soon his classes were overflowing. Then he started a Tuesday morning class at the North Valley YMCA.
Busloads of young people from all over flocked to the East West Cultural Center when they learned of a Master from India teaching Kundalini Yoga! This was too much for the woman in charge of the Center, and she asked Yogi Bhajan to leave. One of his students owned an Antique Shop on the corner of Melrose and Robertson and he offered to let us use the showroom for classes. Every night the enthusiastic students would remove all the furniture before class, and put it back afterwards! Soon they decided to convert the garage into a permanent classroom, and that became the first "Guru Ram Das Ashram." Classes were packed full every night.
He made it very clear from the very start that he had not come to get disciples, but to train teachers. He said that in Kundalini Yoga, a person must initiate him/herself! He encouraged people to learn, and then go out and teach what they had learned.
Yogi Bhajan himself was invited to other cities and when he first started traveling and teaching I took over his Los Angeles classes. In the Summer of '69 he was invited to New Mexico for the Summer Solstice celebration. (That's a whole book in itself!)
In 1972, with his own money, earned from traveling and lecturing, he bought the property at 1620 Preuss Road in Los Angeles, which became our permanent Guru Ram Das Ashram and 3HO International Headquarters. Yogi Bhajan taught classes and lectured there until a larger facility was needed, and the local students opened a yoga center.
Prior to his teaching Kundalini Yoga in the west, it had never been taught publicly anywhere. Traditionally, any student who wanted to learn Kundalini Yoga would have to serve a Master, prove his/her humility, self-discipline, and devotion before the teacher would even consider teaching the student. (In fact, it was said that anyone who dared to teach Kundalini Yoga openly "would not live to see his next birthday.") Yogi Bhajan defied that tradition.
He knew that to heal the mental and emotional problems -- as well as the physical bodies that had been damaged by the use of drugs, and to give these seekers a real experience of the God within, Kundalini Yoga was the best tool to use. And, he gave an alternative to the drug culture.
He could have taught Hatha Yoga, of which he is also a master, but it would not give the transformational results that were needed.
Yogi Bhajan left his physical body at 9:05 pm MDT on October 6th, 2004. His passing took place at his home in Espanola, New Mexico surrounded by family and friends. The cause of death was complications due to heart failure. He was 75 years old.
* * * * *
If any of your readers would like to know the fundamentals and the explanations that Yogi Bhajan taught in those first few months, to de-mystify Kundalini Yoga, they can get my book, KUNDALINI YOGA: The Flow of Eternal Power. You can order it below - simply click on the book cover to be taken straight to the Yogatech.com website.
Blessings!
Shakti Parwha Kaur Khalsa.

CLICK ON COVER TO ORDER
"Kundalini Yoga - The Flow of Eternal Power"
TODAY!
Other Books from Yoga Technology