QUICK LINKS: What's New | Books | DVDs | CDs
Recommended Books, DVDs, CDs
Click on any picture or link to go to the Yoga Technology Online Store
(DVDs are coded for ALL Regions and should play everywhere)
Guru Rattana, Ph.D.
At Yoga Technology, author Guru Rattana, Ph.D, we have been publishing our popular and practical range of Kundalini Yoga & Meditation manuals since 1988.

Based on Guru Rattana's interpretation of lecture notes taken from Yogi Bhajan's early classes, they have been clearly and beautifully illustrated by Ann Marie Maxwell.

Each of the first three volumes contains over 100 Kundalini Yoga sets and meditations in over 200 pages.

Large format (8.5x11"), they are spiral bound to lie flat during use and come with laminated covers for added protection and long life. They are in daily use by teachers and students world-wide.
Relax & Renew
Guru Rattana, Ph.D.

Takes stress reduction

to the level of spiritual resolution.

Transitions
Guru Rattana, Ph.D.

Powerful techniques to

open your heart to unconditional love.

Introduction
Guru Rattana, Ph.D.

Ideal for beginners! - gets you started on your

spiritual practice.

Sexuality & Spirituality
Guru Rattana, Ph.D.

Enjoy more depth and pleasure in sacred

sexual union.

The Destiny of Women
Guru Rattana, Ph.D.

An invaluable handbook offering upliftment to every woman on the planet!

Chakras
Guru Rattana, Ph.D.

A unique reference work offering information not available elsewhere.
Kundalini Yoga for Beginners
Nirvair Singh
Nirvair Singh, the "Alaskan Yogi", lives with his family in Anchorage. He has taught classes in Kundalini Yoga at the University of Alaska since 1975. His wonderful series of DVDs - Kundalini Yoga for Beginners - is now available from this site.

All lesson material is taken directly from his university course.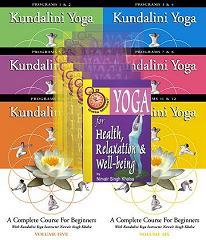 Kundalini Yoga for Beginners - Complete DVD Course
View all Videos/DVDs from Nirvair Singh
Snatam Live in Concert
Snatam Kaur

The real essence of

Snatam Live + bonus DVD

Anand
Snatam Kaur Anand

means

Bliss

. Enjoy Snatam's ethereal vocals.

Grace
Snatam Kaur

Celebrate the Grace

within

all

Beings!

Prem
Snatam Kaur

The expression of love

- the deep love within.

Pure Ganesh
Guru Ganesha

A wide-ranging chant album, which also features Snatam.

Shanti
Snatam Kaur

Peace - inspired by the sacred writings of the Sikhs

Kundalini Beat
Dev Suroop

Multi-dimensional sacred mantra experience.

Ra Ma Da Sa
Gurunam

Mantra to aid sleep. Music adapted from Pachelbel.

Deeply Relax & Meditate
Shakta Khalsa

Companion CD for Shakta's book - Kundalini Yoga


Truth Mantra Girl - Erin Kamler


Inspiring mantras set to stirring rhythms

Crimson 1&2
Singh Kaur

First CD in the remastered series by the late great SK
more Kundalini Yoga and other CDs
Ayurveda & Natural Health