Free Course - Introduction to Kundalini Yoga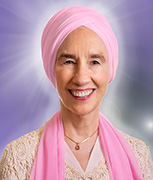 Now you have the chance to learn about the essential basics of Kundalini Yoga, an easy-to-learn but powerful and fast acting yoga, with its roots in the foothills of the Himalayas. This trail-blazing course for beginners has been specially designed and produced by our Program Director, leading author and teacher of teachers, Guru Rattana, Ph.D.
Work through the lessons at your own speed. There is no need to play catch-up. There are no prizes for being fast - the real prizes are for those who take the time to fully absorb the teachings and to integrate them into their daily lives. If you are short of time to complete a lesson, then it is much better to cut down on the time or number of repetitions for each exercise than to complete only part of that particular set.
"I absolutely love it! It is without a doubt the most powerful yoga I have experienced and one that I intend to keep practicing." -
You can use the following links to check out the individual lessons:
Lesson Index
Lesson 01 - Welcome to Kundalini Yoga
Lesson 02 - Silence & Intuition
Lesson 03 - Mantras & Tuning In
Lesson 04 - Meditation and Choice
Lesson 05 - Sat Nam, Stress Reduction
Lesson 06 - Guidelines for Sadhana
Lesson 07 - Pranayama - Breathing Techniques
Lesson 08 - Activating the Kundalini, Locks (Bhandas)
Lesson 09 - Flexibility of the Spine
Lesson 10 - The Navel Center & the Lower Triangle
"Hi. Just wanted to say that I am finishing the free online intro kundalini course by Guru Rattana and am writing to express my gratitude! It has been a great complement to the practical kundalini classes I´ve taken. Living in rural Chile, it is difficult to attend or find such resources...so many heartfelt thanks !!!
Lesson 11 - Infinite Experiences
Lesson 12 - Breaking Addictions
Lesson 13 - Befriending Your Body
Lesson 14 - Prosperity: the Path of Manifestation
Lesson 15 - Kirtin Kriya - SA TA NA MA Meditation
Lesson 16 - Shabad Kriya - Bedtime Meditation
Lesson 17 - Dealing with Depression
Lesson 18 - Human Sensory System (Fully revised 4/30/2017)
Lesson 19 - Posture and the Heart Chakra
Lesson 20 - Earth, the First Chakra & Intuition
Lesson 21 - Surrender to the Zone - Meditation & Intuition
Lesson 22 - Brainwave Meditation
Lesson 23 - Healing Meditation
Lesson 24 - The Gift of Giving and Receiving
Lesson 25 - Change, Creation & Choice
---
Guru Rattana Online
Thanks to the latest streaming video technology, you can enjoy the remarkable teaching methods of Guru Rattana in the comfort and privacy of your own home. The service is now fully compatible with all iPhones, iPads, Androids and most other mobile devices. Join with her and her San Diego students 24/7, whenever your schedule will allow.
There are 78 artfully designed and thoughtfully presented classes to choose from - over 135 hours of world-class instruction, yoga practice and meditation - offering you an opportunity to expand your consciousness, align your body, elevate your mind and balance your emotions.
Benefit immediately from our economical subscriptions - from as little as $8.33 per month. New PayPal subscribers enjoy a free 48 hour trial period giving full access to all the videos - cancel before your trial is up and you owe nothing. We also offer payment by credit card for fixed 3, 6 and 12 months periods.
Jump in! You will be surprised by how easy it is to begin your practice, and delight in your newly-discovered experience of well-being. Guru Rattana explains it all. Simply follow her guidance and commence your own exciting journey to awareness.
"I have been doing the free lessons. I intended to do all 25 before signing up to view the videos. But I began benefitting from it so quickly I decided it was well worth the investment."
---